Things to do in Denver when You're Dead
Looks like the knife that drops into the hand of Mr. Shhh (Steve Buschemi) when he's trying to kill Critical Bill (Treat Williams)  is a Gil Hibben designed Silver Shadow dagger made by United Cutlery.  The knives are still generally available and cost about $35.  Two pix follow.  First is a new knife from KnifeCenter.com.  Second is the actual prop that was up for sale in 2012.  It has tape on the handle and the line that they used to slide the knife down into his hand.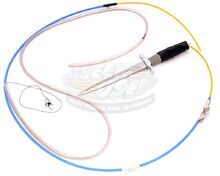 Ad blocker interference detected!
Wikia is a free-to-use site that makes money from advertising. We have a modified experience for viewers using ad blockers

Wikia is not accessible if you've made further modifications. Remove the custom ad blocker rule(s) and the page will load as expected.